Specification:
International Standard
Origin:
Baoying,Jiangsu,China(Mainland)
Product Description
Item Name:3 Strand Polyester Rope
1. Material: Polyester

2. Dia:Â 4mm--52mm

3. Certificates:Â CCS, ABS, LR, NK, BV, DNV-GL, RS, KR

4. Advantages:Â High strength, light weight, easy operation, soft and wearing resisting.

5. Use:Â Widely used in shipbuilding, ocean transportation, ship towing, sea aid, heavy-duty hoisting, national defense warship and vessel etc.
Product Parameters
Specification
Polyamide  multifilament
Polyamide
Polypropylene  Fidre
Polypropylene
Polyester
Dia
Cir
Theoretical
weight
Breaking
strength
Theoretical
weight
Breaking
strength
Theoretical
weight
Breaking
strength
Theoretical
weight
Breaking
strength
Theoretical
weight
Breaking
strength
mm
inch
Kg/220M
daN
Kg/220M
daN
Kg/220M
daN
Kg/220M
daN
Kg/220M
daN
4
1/2
2.1
330
2.0
270
1.7
260
1.6
210
2.6
300
6
3/4
4.6
770
4.4
630
4.0
600
3.8
590
6.0
620
8
1
8.2
1380
7.9
1130
7.0
1100
6.8
1040
11.0
1130
10
1-1/4
12.8
2140
12.5
1850
11.0
1620
10.6
1530
17.0
1640
12
1-1/2
18.5
3080
18.0
2530
16.0
2320
15.4
2170
24.0
2360
14
1-3/4
25.0
4220
24.0
3460
22.0
3220
21.0
2990
33.0
3280
16
2
33.0
5460
32.0
4480
29.0
4140
28.0
3700
44.0
4200
18
2-1/4
42.0
6900
41.0
5650
36.0
5100
35.0
4270
54.0
5200
20
2-1/2
51.0
8550
49.0
6750
45.0
6350
43.0
5690
68.0
6500
22
2-3/4
62.0
10300
60.0
8140
54.0
7700
52.0
6820
81.0
7800
24
3
75.0
12400
72.0
9800
64.0
9000
62.0
7970
96.0
9400
28
3-1/2
105.0
16300
100.0
12800
87.0
11700
85.0
10500
130.0
13200
32
4
150.0
20600
135.0
15400
115.0
13900
110.0
13300
175.0
16200
36
4-1/2
180.0
25600
173.0
19200
145.0
17500
140.0
16600
220.0
19900
40
5
220.0
30800
212.0
23100
180.0
21100
175.0
20100
270.0
24700
44
5-1/2
165.0
36900
255.0
27700
215.0
25400
205.0
24200
325.0
29300
48
6
315.0
43300
305.0
32500
255.0
29500
245.0
28000
385.0
34500
52
6-1/2
370.0
50300
355.0
37700
295.0
34000
285.0
32500
445.0
40300
Product Photos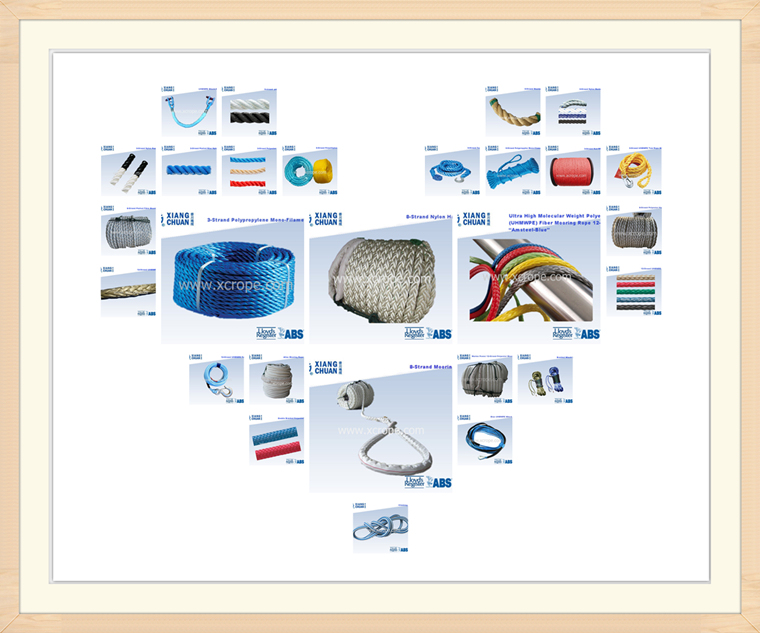 XIANGCHUAN Rope


XIANGCHUAN Factory