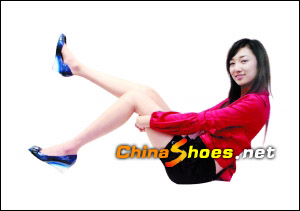 In the spring and summer of this year, major brands have started writing articles on the surface and behind the shoes. The new spikes and soles of the heels have been repeated, making this season's shoes an eye-catching accessory for women.

Zhang Yang's women like high-profile shoes, and they immediately catch people's attention with the excitement of the tip of the shoe. Mensao's women are low-key and publicity. They are used to hiding the scenery on the heel, making people spend a long time. Aftertaste.

08 spring and summer, shoes, but also goods woman.

Zhang Yang's women are baptized by people's attention everywhere, and publicity shoes are no exception.

This year, many shoes in spring and summer have the characteristics of Zhang Yang, in addition to the color of publicity, publicity is reflected in the tip of the shoe: the large decoration, shiny decoration, retro decoration is the key to this season's toe The word, the oversized necklace that has been worn on the neck of Dior's model has been "transferred" to the tip of the shoe, and the flats have become more prominent in the spring and summer this year because of the tip of the shoe.

In addition, the Swarovski Crystal-lined sandals and gold-silver shiny shoes on the tip of the shoes are the representatives of this season's high-profile shoes, allowing you to shine in the light of the lotus.

However, in addition to high-profile women, more women still belong to Mensao type, this year's spring and summer belongs to this type of woman's shoes also fully embodies the characteristics of this type of woman, in the heel office to play to the extreme, Even more tempting, more savoring and memorable than the prosperous toe.

Hollow middle heel, wedge heel, tapered heel, triangle heel, rectangular heel, square heel, wedge heel, stiletto heel ... The heel of the spring and summer of this year is almost a concentration camp for geometric patterns; Decorations such as metal materials, fabrics, and ramie are all significant expressions of Mensao's style. They also make shoes look more impressive.

Seeing shoes to see women, however, this spring and summer shoes are so attractive, it is inevitable that different women will also "play the world." In fact, no matter what kind of woman you are, as long as you know the trend, know what suits you, and know how to use shoes to express yourself, this is a fashion woman.
· Domineering full-tip shoes Queen Fan children
· The wild king of sandals is it
· Visual stretch leg length also has a pair of V-port shoes
· Danbyo shoes trend | summer to this pair of sandals each way
·Summer came to this pair of sandals fire all the way female stars are
·Spring and summer shoes fashion shoe necessary color
Can't you know what to wear in canvas shoes except for Converse?
Erika Jayne appeared in New York in New York
·Corthay Fashion Men's Wear One Week
·The two spokespersons of CONVERSE will perform with CHUCK 70
Spun Polyester Sewing Thread,Sewing Thread,Polyester Bag Closing Thread
Monofilament Yarn,PLA Corn Fiber Co., Ltd. , http://www.guoxingbz.com