Antibacterial finishing agent SCJ-875
Antibacterial finishing agent SCJ-875
  Structure or component     a cationic polymer compound having a reactive group and an organic nitrogen structure, wherein the organic nitrogen structure is
      NH ⊕ NH 2
                   ‖      ‖
   —— R 1 C C R 2 ——
NH NH NH n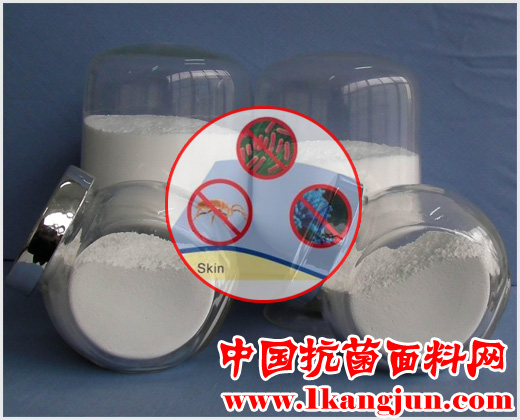 Traits and specifications           Exterior         Pale yellow transparent liquid
PH value 6-7
                        Specific gravity 1.02 ( 20 °C )
                         Ionicity       cation
                         Solubility      Soluble in water, alcohol
Use and application method    "Physical antibacterial", Applicable to all kinds of fibers, giving the fabric a good antibacterial effect, mainly used for antibacterial hygiene finishing of various textiles such as underwear, underwear, socks, bath towels, bed sheets, wool carpets, decorative fabrics, etc. Can be used in the same bath as the softener.
1. Padding method: fabric - > padding (rolling rate 75% SCJ-875 20-50g/L ) - > drying ( 70~100 °C × 3~6min )                  — > Bake ( 120-140 °C × 30-60s ) - > Finished product.
2. Impregnation method: antibacterial agent SCJ-875: 1-4% owf bath ratio: 1 : 10-15, temperature 50~60 °C
           Fabric → impregnation → dehydration → drying ( 80~110 °C )
    Packed and stored in 25Kg plastic drums. Store in a cool warehouse for one year.
[China Antibacterial Fabric Network ]
ZeroClipboard.setMoviePath('/plugin/copytofriends/ZeroClipboard.swf'); var clip = new ZeroClipboard.Client(); clip.setHandCursor(true); clip.setText("Antibacterial Finishing Agent SCJ-875 http://www. 1kangjun.com/post320/"); clip.addEventListener('complete', function(client,text){ alert("Successfully copy this article to the clipboard!"); }); clip.glue('copytofriends');
Artificial Plants,Artificial Plant Decor,Christmas Ornament Picks,Christmas Artificial Plants
Ruian Qingsen Arts & Crafts Co., Ltd , https://www.hxl-christmas.com