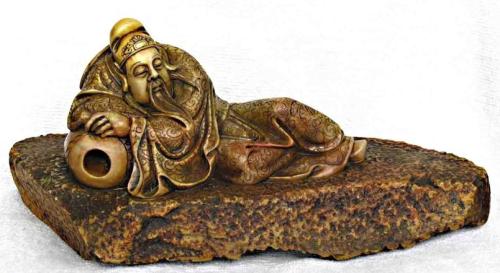 The collections of stone carvings and ancient jades of the era were slightly depressed compared with the collections of paintings and bronzes. The stone carvings are usually made by Japan's Yasuhiro Jiro, U.S. Fukusei, and France's Wieda. They bought the Tianlongshan priests, and destructively swept away the Tianlongshan stone carving Buddha heads of the Tang Dynasty, and they have occasionally appeared on the market. Yue Bin, who drove Liulichang, blew up the Longmen Grottoes, plundered the Northern Wei Dynasty's "Emperor's Religious Buddha Map," and "The Queen's Religious Buddha's Figure," and now houses the American Metropolitan Museum.
There are many ancient jade collectors, and these collectors still use calligraphy and painting, bronze ware, and rare ancient books. The collection of collectors with great concentration on ancient jade is topped by Mr. Fu Zhongyu. Fu Zhongyu, Zisheng Jin, 1905--1974, Sichuan Jiangan people, ** education chief, ancient books version of the master student Mr. Fu Zengxiang son.
Fu's life is devoted to the collection and research of ancient jade, with as many as one thousand pieces of jade, including "Peduzhai Ancient Jade Records", "Ancient Yu Yu Elite" (see photo), "Cang Yuan School Picture Book", "Bai Song." Edited and other works. After the liberation, during the work of the State Administration of Cultural Heritage, over 100,000 pieces of ancient jade were selected for the collection of ancient jade boutiques. In the research of prehistoric ancient jade, he made outstanding contributions, especially in terms of the type, ornamentation, and carving of Hongshan culture, combined with archaeological discoveries, and established a visual criterion. In terms of theory, there are eight parts to classify ancient jade in China, and establish a theoretical basis for jade identification in ancient jade collections.
After the liberation, the Cultural Relics Bureau set up a cultural relics office. Mr. Zhang Jun was the first deputy director (with no post of director in charge). Mr. Fu Zhongyu and Xu Bangda were business secretaries, each of whom was responsible for the business under his jurisdiction. At that time, many business people were mostly engaged in ancient paintings and paintings, and rare books and ancient books. Only Mr. Fu Zhongyu was a researcher of ancient jade. In order to carry forward the oldest art category, Mr. Fu Lao compiled the most authoritative "Peders" by his loneliness. Jaigu jade map recorded, "the ancient jade elite."
** The popularity of collecting ancient jade is not as good as calligraphy and painting, porcelain, rare ancient books, and bronze wares. The study of ancient jade is also very depraved. Mr. Fu Zhongyu can be said to have opened his school and played a leading role. His research theory has so far become a textbook of cultural relics and is an indispensable tool for ancient jade lovers.
Guangzhou Yanzi Textile Co., Ltd. is a comprehensive company integrating design, development and production. Having certain influence and appeal in the domestic market, we have cooperated with more than 1,000 well-known brand clothing companies so far. Moreover, our products are sold well in more than 30 countries and regions including Middle East, Southeast Asia, Europe and America. Our company owns self-support import and export rights and has a domestic professional design team. We mainly produce diversified products such as embroidery fabrics, lace fabrics, jacquard fabrics and knitted fabrics, etc.

Yanzi Textile has a team that is hardworking, passionate and innovative. We are full of vigor and ideal in our work. Good services to our clients is the core goal of our daily work.

Sequin Lace,White Sequin Lace Fabric,Sequin Embroidery Lace Fabric,Sequin French Lace Fabric
Guangzhou Yanzi Textile Co.,Ltd , https://www.gzyanzilace.com