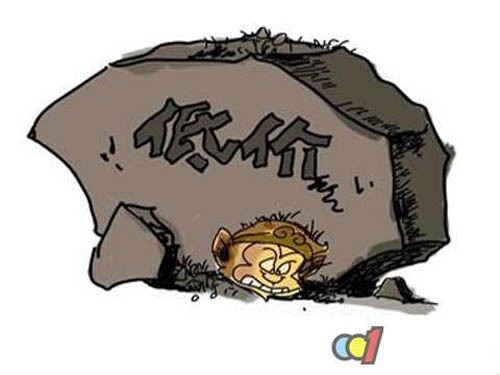 In recent days, the news that apparel companies have "closed down" and "closed down" in Jiangsu and Zhejiang provinces has shaken the hearts of the industry. Due to the downturn in the international consumer market, European and US buyers continue to reduce the cost of procurement in China, some of China's textile foreign trade companies either have to do nothing, or rely on low-profit orders to maintain production. The long-term "sub-healthy" operation model has become a fatal injury to the company. Some small and medium-sized enterprises have been dragged down to the inevitable outcome. However, in addition to the external environment, the vicious internal competition is also devouring the industry. In order to maintain customers and ensure order volume, some manufacturers have taken orders in order to "maintain capital." Many export companies have therefore fallen into the price of the Red Sea.

"There are people who have orders for low prices!" Now, it seems that what is more terrible than the "closed tide" is "low price competition".

Grab someone else's single off his own way

In recent times, more and more heads of textile companies have complained to reporters that low-price competition has disrupted normal industry order. "No matter how low the prices given by the merchants, there are always people who will take orders. From the production point of view, such prices cannot guarantee the profit rate at all. If they can do it, they must also be cutting corners in raw materials and processes. "In order to protect profits, companies that do not want to cut prices have no choice but to take orders at a very low price, but those who use unconventional means to "save money" discredit the "Made in China" reputation. Over time, the healthy development of the industry will inevitably be affected, and its own interests will also be affected.

Lu Xin, sales manager of Anhui Lu'an Marine Feather Co., Ltd., said that it is not nearly one or two years before textile export companies have been caught in low-price competition. As early as the 2008 financial crisis, "low-price competition" has already begun to show signs. He pointed out: "Some orders are too low, and companies must lose money when they do it. Despite this, companies in the country will still receive such orders. This gives room for customers to lower their prices. Now the momentum is growing."

Yang Leying, manager of the import and export department of Shandong Hualong Textile Co., Ltd., said that the vicious competition is now very severe and the competitive pressures of large-scale textile factories not only come from their peers but also from trading companies. "The products we produce are mainly wide-grained cotton bleached cloths. Foreign trade companies competing with similar products are now drastically lowering product prices, which are roughly $1.45/m to $1.5/m, which is very difficult for our large companies. This is because the profits are too low, but these foreign trade companies will find some small factories to make a single order. In contrast, these small factories have small production capacity and products have a good turnaround, so low-cost orders are still profitable for them. ."

In the eyes of people in the industry, companies that place orders at low prices only value the immediate interests. The seemingly compelling individual choice is jeopardizing the healthy development of the industry as a whole. "Accepting orders at low prices is actually a kind of speculative behavior, and this business model will not last long. In the process of industrial transformation and upgrading, they also lost the ability to upgrade from product development, process innovation, etc. The more you can go, the narrower you will find that it is a dead end."

Abandon the "spell with price" heavy long-term interest

According to industry sources, export companies are accustomed to "spelling prices alone," but also blamed on the European and American merchants' initial orders. "Foreign buyers are very smart. When a well-known large-scale US super company initially orders at home, it will cooperate with a single factory. If the cooperation goes smoothly, they will continue to increase the order size. As a production company, in order to retain For such large customers, companies will continue to expand their production capacity to meet their production needs, but the problem is that once the domestic production companies expand their scale to a certain extent and they are highly dependent on large orders, buyers often put forward price reduction requirements. At this point, if prices are not reduced, if such large customers transfer orders to other factories, the capacity that they expand will become a burden to the initial order companies. For this reason, if the production companies cannot find orders within a short time, For new customers, they can only continue to cooperate with old customers on the basis of low-cost orders.In simple terms, if you don't do the orders given by foreign companies, the production capacity can only be idle, so companies either take low-price orders or put aside some of them. Capacity. Two ways to choose."

In general, international buyers will find suitable suppliers based on cost and quality planning. As the demographic dividend in China has gradually disappeared in recent years, and international sales have been sluggish, international buyers have become increasingly demanding in terms of cost control. Some Chinese manufacturers receive price cuts each year. At the same time, other requirements of international buyers for suppliers are getting higher and higher. The latter must also comply with business ethics, such as minimum wages, reducing environmental pollution, reasonable working hours, and work-related injury insurance.

It is the responsibility of the company to ensure the employee's welfare. However, in the face of buyers' low-price orders and blindly lower prices, should the company compromise? According to a survey conducted by McKinsey, an international consulting firm, the analysis of 1,000 large US companies in the Standard and Pools found that the profit margin caused by a one-per-cent price drop fell between 7.1% and 8.1%. . Therefore, unless a company's cost structure has a major advantage over its competitors, price reductions are not a good way to lower prices. Some experts pointed out that the large number of suppliers in China does not hold a group. In the price game with international buyers, it is easy to be defeated by each, and it is always in a weak position. To this end, China's exporters should unite and take a long-term perspective. The most important point is to enhance the competitiveness of the company itself and hold the price of the right to speak in its own hands so that it will not weaken the overall interests of the industry.

Say the product wins the price war

In fact, both traditional and emerging markets, although some orders have now shifted to Southeast Asia, the dependence of international buyers on the Chinese market remains unchanged. In the game of price wars, Chinese export companies can fully tap their own advantages and gain more benefits by improving their product R&D capabilities.

Jiangsu Qianlong Home Textiles Co., Ltd. is one of the Chinese suppliers of Swedish IKEA. In recent years, the company has also been under pressure from buyers to lower prices. In order to grasp the right to speak, the company continues to increase the proportion of new products, in addition to styles, but also try to innovate in color and material. Its R&D team made the sofa cover made of the original liquid colored polyester spinning technology more washable, the process is simpler, and the production process can save water by 80%. The person in charge of the company stated that the new product does not need to engage in price cuts because the company is able to cope with the buyer's annual price reduction as long as it continues to innovate.

Despite the current downturn in the textile export market, the profit rate of Jiangsu Wuxi Rihui Textile Technology Co., Ltd. can still be guaranteed at around 20%. The main reason is that its fashionable children's skirt products are very popular among foreign businessmen. The complex production process and high-efficiency raw material collection required by these products are not available in general processing plants. At an international exhibition recently held, the company's products had also been inquiries from foreign companies at low prices. In response to this, the general manager of the company, Lv Qingjun, will steadfastly refuse, and its unique products and stable production capacity will make it possible to connect with others. . He believes that as long as the product is perfect, Chinese manufacturers can completely escape the price of the Red Sea.
Type difference editing speech

Using surface material

Mold wood free paper, coated paper art Paper (shading/mirror), transparent PVC, electrostatic PVC, polyester PET, laser paper, heat-resistant paper, PP, PC, krav paper, fluorescent paper, thermal paper, copper wire dragon, silver wire dragon, gold-plated paper, silver-plated paper, synthetic paper (CPC/PP/HYL/ youtoughen paper/pearl paper), aluminum foil paper, fragile (anti-counterfeit) paper, American paper, cloth label (Tevic / Nylon, pearl dragon, sandwich copperplate, thermal paper.

Using film class

Transparent PET translucent PET transparent OPP translucent OPP transparent PVC light white PVC matte white PVC synthetic paper light gold (silver) polyester matte gold (silver) polyester shape memory security material.


Trademark Print Food Sliver,Logo Drink Beverage,Waterproof Vinyl Logo Stickers
Guang Zhou SUNSEA Printing Technology CO.,LTD. , https://www.sansenprinting.com