The new appearance of Chaudun Apparel "Dynasty Experience Store" aims to create a high-quality fashion lifestyle for VIP customers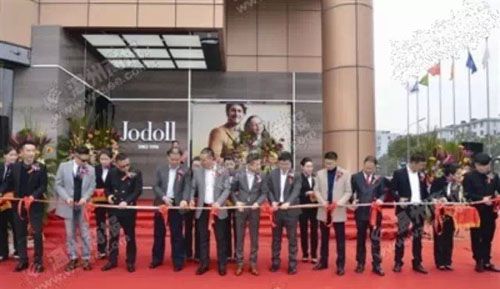 A new appearance of Chaudun Apparel "Dynasty Experience Store" to create a high quality fashion life for VIP
On December 8th, the "Dynasty Experience Store" opened for Joetown Apparel, which was the first experience store business model innovation brought by the company's "New Third Board" listing. Shen Yingqin, chairman of Zhejiang Qiaodun Garments Co., Ltd. expressed that he hopes to use Internet thinking to allow VIP customers to have more sense of participation and ultimate experience in the physical store, and ultimately achieve the goal of creating high-quality and stylish life for VIP customers.
Into the experience shop, warm space will be more than 500 square meters of shops, suitable for weekends, leisure time wearing a "sleek casual wear area"; suitable for normal work, party dress when the "business casual wear area"; suitable for formal "Formal dress area" for formal occasions such as business talks and dinners, and "advanced customization areas" to meet the individual needs of consumers... Lin Wu, director of the Chayote Apparel Sales Center, explains that each area of ​​the experience store is tailored to the needs of consumers. To divide, each Purchasing Guide has undergone professional training before it can be employed. The new store also separates a business meeting room, where VIP customers can hold small business meetings, discussions, etc.
On the opening day, Chawton's chief Korean designer Jin Shengshu performed tailor-made work for the customer. He also invited fashion experts, Zheng Yuner, a senior image consultant in Korea, and Park Yin-hee, a senior color consultant, to provide fashion consulting services to clients. More than 200 Jordon loyal fans went to the scene to experience.
It is reported that Qiaodun Garment was established on December 13, 2010, mainly engaged in the R&D and design, brand promotion and terminal sales of its own brand of menswear, as well as the production and sales of its own branded business wear. The company has marketing outlets, 50% of which are mainly distributed in high-end retail channels such as high-end department stores, airports, and star hotels in Jiangsu, Zhejiang, and Fujian provinces. In recent years, Qiaodun apparel has innovated through the introduction of new thinking and management concepts to the traditional clothing industry's business model, standardized the company's operations through the docking of the capital market, promoted the development of the company, and conducted in-depth research on a large number of VIP customers to study VIP. The pain points and excitement of customer needs, summed up and innovated to launch the Joeton Business Model 1.0 combined with Internet thinking.
"The traditional industry's innovation and development must follow the trend, we must subvert the previous product thinking and change to user-centered Internet thinking. We use Internet thinking to allow consumers to have more sense of participation and experience, and make this The experience will have a better interaction with us, and this interaction will in turn prompt us to constantly update Joyton's products and services." Shen Yingqin said that brand management has experienced product thinking, brand thinking and management thinking, and will be followed by "customers." The new model of "thinking" operates. Taking the "Dynasty Experience Store" as a model, Joyton will continue to update and launch the 2.0 and 3.0 editions... With a "fit, fit, fit" dress concept, it will eventually create a high-quality fashion lifestyle for VIP customers. aims.
Women Socks,Non-Slip Invisible Socks,Eco-Friendly Socks Women,Boat Socks
Shaoxing Evergreen Knitting Co., Ltd. , https://www.egsock.com