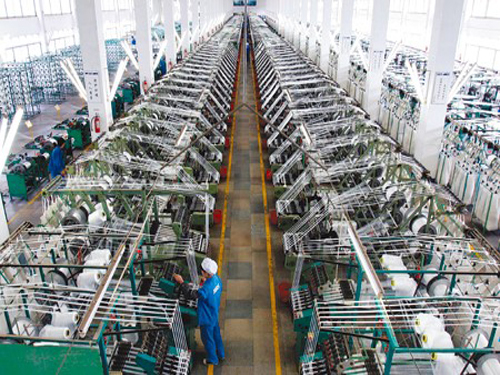 When Tian Tiankai, chairman of the China National Textile and Apparel Industry Federation, attended the first "10th Forum" in Guilin, Guangxi, he said that the growth rate of China's textile industry has slowed down significantly compared to the first decade of this century. In the future, the textile industry will also vigorously promote the "going out" of Chinese enterprises.

According to the analysis of the China Textile Industry Federation's Department of Information Statistics, from January to September, the fixed assets investment of the textile industry with over 5 million yuan was 745.831 billion yuan, a year-on-year increase of 12.93%, and the growth rate was 3.13 percentage points lower than the growth rate in the first half of the year.

Wang Tiankai said that the current shortage of employment structure in China has become the norm; an average annual salary growth of over 10% makes China's labor costs far higher than its neighbors, and its cost advantage is no longer. At the same time, the restrictions on China's textile raw materials are increasingly apparent, and the supply of high-quality cotton is seriously deficient. The cotton price has been more than 30% higher than the international market for three consecutive years; the development and application of chemical fiber have been insufficient, and the development of recycled fiber processing technology and recycling channels has lags behind. Coupled with the severe situation of energy conservation and emission reduction and the inconsistent industrial layout and resource and environmental bearing capacity, the development of the Chinese textile industry has entered a new cycle of shifting gear from high speed to medium speed since 2011.

How to deal with textile enterprises? "Implementing sustainable development is an important support for the transformation and upgrading of the textile industry." Cheng Peng, general manager of Esquel Group's knitted fabrics factory, the world's largest manufacturer and exporter of cotton shirts, said that the Chinese textile industry should shift from labor-intensive to knowledge-intensive. Use information, knowledge and technology to promote the development of productivity. The era of "low price and low quality" "fighting price" has passed. In the future, only high-quality, cost-effective products will be more competitive.

"In the future, the textile industry will also vigorously promote the 'going out' of Chinese companies, invest overseas in the construction of textile raw material bases, processing bases, research and development centers, marketing channels, etc., effectively compensate for the weak links in the domestic industrial system, and at the same time expand the allocation of resources across countries. Promote the optimization of global industrial division of labor, said Wang Tiankai.
LSR Injection Mould, is also called Liquid Silicone Rubber Injection Moulding, LSR Injection Mold & LIM, which can produce liquid silicone rubber parts or products by injection molded machines, not by traditional silicone rubber compression machines using traditional production method, but by liquid silicon rubber injection mould production, which is safer, more precise & environmentally friendly & transparent, using less manpower, and having high production efficiency compared with rubber compression mold.
Liquid Silicone Bottle, also known as Best Baby Bottles, Silicone Baby Bottles, which is made of Food Grade Silicone by Liquid Silicone Rubber Injection Molding, and which is highly safe, 100% food grade, less likely to break down through wear and tear.
Recent year, LSR has been highly popular for its better biocompatibility compared to HCR. Because products with biocompatibility have a smaller likelihood of having harmful side effects on human. What's more, liqiud silicone rubber has good properity of wearing and tearing resistant, so LSR nursing bottles become the best choice for babycare..
Rubber Lsr,Silicone Lsr,Medical Liquid Rubber Lsr,Medical Liquid Silicone Lsr
Xiamen The Answers Trade Co.,Ltd. , https://www.answerssilicone.com