Sophia, chief designer of GentlePeopleFamily, finally came to her dream Provence, to explore the footsteps of the international art masters Cezanne, Picasso, Van Gogh and Monet in search of new creative inspiration and fountainhead. In this sunny, colorful pastoral scene, Sophia's unconsciously danced and feels like Provence's name: "LAYIEESTBELLE" - life is so beautiful ..... every day with a brush and canvas, Enjoy the stunning colors of Provence. However, the most touching Sophia's heart is that every evening, when the setting sun, her eyes are always deeply attracted by a mother and son. They run in the purple flowers chase, mother and daughter laughter, echoed in the fragrance of lavender from time to time, a long time to go. This warm affectionate picture of mother and daughter, can not help but remind him of childhood, often in the mom's tailor shop, squatting at the mother's feet playing with rags of various colors, and her mother from time to time tease her. Suddenly a flash of Emmanuelle, instantaneous Sophia picked up the brush, draw a set of motherhood, hoping to convey the harmony between mother and daughter affection. This is the origins of GentlePeopleFamily's "Living Parenting Pack". With its unique design, exquisite craftsmanship, vivid colors and vivid colors, it reveals the strong affection of the European country and country. Interpretation of the slightest, stirring the hearts of people. At the same time, people's hearts and desires and dreams of their loved ones are even more profound. Into real clothing, trying to make clothing as part of a better life. In the international fashion industry has set a unique fashion coordinates.
Diapers Spandex

On basis of ensuring the resilience of spandex yarn, Aoshen R&D team improves Diapers Series products` softness by technical innovation and increase its creep resistance property after repeated optimization experiments. Endow spandex property of anti-microbial by adding specific auxiliary materials, all of these make the final products more comfortable, healthy and environmental-friendly. Aoshen Diapers Spandex mainly used for baby/adult diapers, baby/adult pull-ups, non-woven fabrics and medical bandages.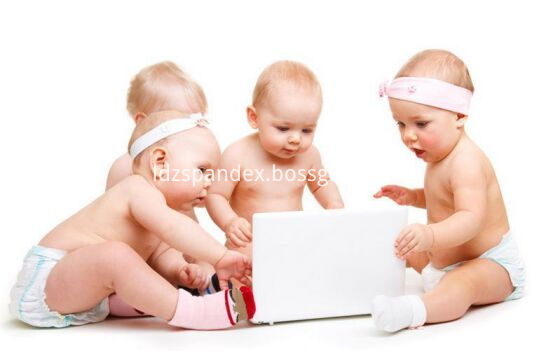 [Technical Superiority]
1. With large tensile elasticity and weak resilience, our diapers series spandex feels comfortable and has no feeling of tight;
2. Products have better shape, and uniform tension;
3. Since the solvent residual rate is low, this series of spandex is environmental-friendly, nontoxic, healthful and hygienic and has passed international certification of Oeko-Tex Standard 100 and REACH;
4. White, blue, pink yarn can be customized;
5. Specification range is from 490 Den to 840Den, roll weight range is between 1.5kg and 4.5 kg, which can be adjusted according to clients demands.
[Specifications]
490Den
560Den
620Den
720Den
840Den
[Application]
Baby / Adult Diapers
Baby / Adult Pull-ups
Non-woven Fabrics
Medical Bandages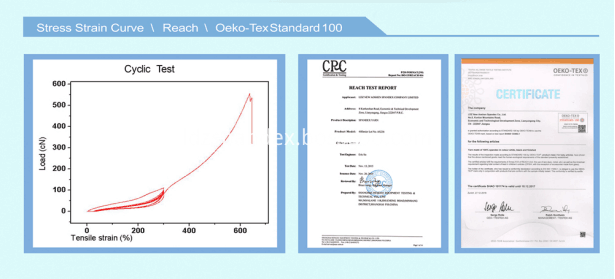 If you have any questions, please contact with us directly. We can provide free samples. Sincerely looking forwards to our cooperation in the future.
Diapers Spandex
Diapers Spandex,620 Den Spandex Yarn,Diapers Hygienic Material,Coarse Spandex For Diaper
LDZ New Aoshen Spandex Co.,Ltd. , http://www.ldzspandex.com