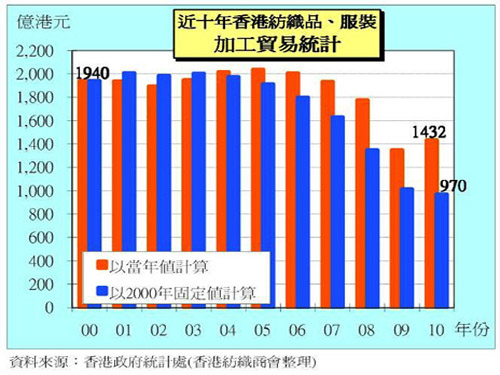 According to the statistics of the Hong Kong Census and Statistics Department, the value of all outwardly processed goods in Hong Kong in 2010 was HK$1,281.6 billion, an increase of 22.2% over 2009, but slightly lower than the increase in total import and export trade (23.9%), accounting for both Hong Kong and the Mainland. The proportion of local trade was reduced from 41.7% in 2009 to 41%.
The processing trade in textiles and clothing (hereinafter referred to as "spinning clothes") experienced a four-year decline since 2006. It also saw a slight recovery last year with a value of HK$114,2 billion, which is 6.3% higher than that of 2009. The increase (8.8%) was small. The share of the textile trade between the two places continued to fall from 62.3% in 2009 to 60.9%.
Excluding price factors, such as taking price factors into account, taking 2000 as a fixed value, last year's textile processing trade was HK$97 billion, which was a 4.2% increase from 2009, and HK$194 billion in 2000. In comparison, it has been reduced by half (see the attached photo for details).
Hong Kong's outward textile processing trade in the Mainland has been halved for 10 years, with a rapid drop and a large margin. In addition to the declining competitiveness of low-processing production in the Mainland, some overseas orders have shifted to emerging regions, due to:
1 Hong Kong enterprises engaged in processing trade are mainly concentrated in the Pearl River Delta. With the tightening of processing trade policies, Guangdong Province has promoted the "cage-for-cage change", and many processing enterprises lacking the transformation and upgrading power have stopped production; some of them are in the central and western regions. Enterprises that have relocated to factories are unable to expand or maintain their production scale due to problems such as the incompatibility of local industrial chains, insufficient power and energy resources, and imperfect transportation.
2 Since 2009, Europe and the United States have no longer imposed restrictions on textile clothing in the Mainland. With the export of Hong Kong certificate of origin, avoiding this limited part of the processing trade, there is no advantage or necessity. The relevant business will become increasingly declining.
3 The Hong Kong Special Administrative Region Government is engaged in the processing of imported materials in the Mainland
Nonwoven Microfiber Cloth Can be Different Knitting and Material. The Cloth Weight Can be 300gsm-800gsm or Other Weight that Customers Required. Also the Microfiber Cloth can Be PU and No Pu. 80% Polyamide, 20% Polyester or 100% Polaymide Material. It Can be Laser Cut to be Different Sizes and Shapes.Is is Widely Used for Floor Cleaning, Car Cleaning, Kitchen Cleaning and Home Cleaning and So On. The Color can be Any Dyed Based on Customers' Need and the Main Advantages for Nonwoven Microfiber Cloth is Good Water Absorption and High Cloth Density.
Nonwoven Microfiber Cloth
Non Woven Microfiber Cloth,Microfiber Non Woven Filter Cloth,Non Woven Microfiber Cleaning Cloth,White Non Woven Microfiber Cloth
Yuanshi County Zhengheng Textile Co., Ltd. , http://www.zhenghengtowels.com