In recent years, the Li-Ning Group has had several "mutations" and has been unpopular. The original desire for consumption after the 70s and 80ths of consumers' consumption has declined, and its full-time cultivation of the 90's has not yet been purchased... This time, it aimed at the children's wear market again. The transformation triggered criticism from people in the industry. Some people in the industry pointed out that the blind pursuit of innovation and change may not be able to achieve the desired effect.
Recently, Li Ning Group announced that it entered the children's wear field with a brand new management team and a brand new brand logo, and announced the development plan for Li Ning's children's wear for the next 5 to 10 years. "Little Li Ning" will become the focus of the Group's development.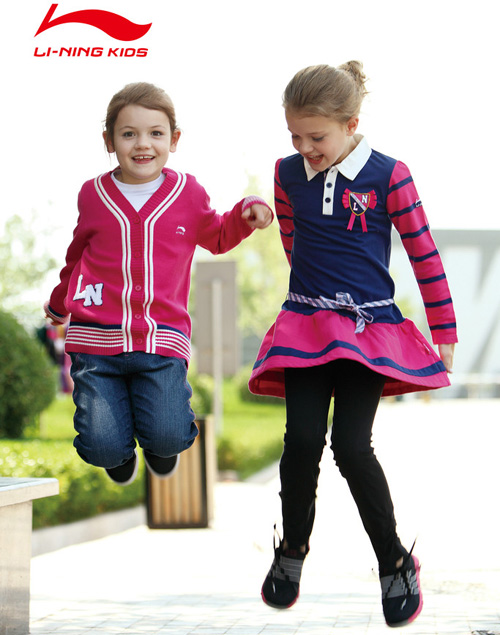 Li Ning children's wear spring and summer 2013 new products
It is reported that the Li Ning Group has had several "mutations" in recent years, all of which are unpopular. The original desires of consumers after the 70th and 80th purchases have declined, but they haven't bought enough after the 90th. They are aiming at the children's wear market again. The drastic transformation triggered criticism from people in the industry. Some people in the industry pointed out that the blind pursuit of innovation and change may not be able to achieve the desired effect.
"Li Xiaoning" is not favored
It is understood that the new concept of 2013 Li Ning children's clothing spring and summer product orders will be held in June, the new store image, channel model will also debut in the second half. Li Ning relevant responsible person said that the next ten years, Li Ning's current consumer groups have become parents, their own preference for the Li Ning brand will also extend to the children to choose clothing, which will bring Li Ning children's clothing a huge business opportunities .
In Li Ning's view, Li Ning has at least two major advantages in entering the children's wear field: First, after years of hard work in adult sportswear, Li Ning has a strong brand awareness and influence; Second, Li Ning in adult clothing The original business system will also fully support and drive the development of "Little Li Ning".
However, Li Ning's move was criticized by many people in the industry and consumers. "Children today are very picky. They like international brands such as Nike and Adidas. The price is the next best thing." When asked if they would buy Li Ning children's clothes for children, Ms. Mok, who purchased sportswear at Zibo Sports City in West Lake Road, Guangzhou, is like this. Told reporters. Another sports lover, Mr. Zhang, said that Li Ning should work hard on product R&D and design and manage the existing adult sports field to have a way out.
Zou Yiming, a senior marketing person of sports brand, pointed out that Li Ning Company will be internationalized for a while. It will move closer to the "post-90s" and open up the children's wear market for a while. Its strategy really makes people in the industry unable to understand, let alone ordinary consumers.
Corporate performance declines earnings decline
Li Ning's 2011 annual report showed that sales revenue was 8.93 billion yuan, a year-on-year decrease of 5.8%. This is undoubtedly the nightmare of Li Ning's 2011 performance, making its "boss" status precarious. "The second year" Anta's 2011 annual report showed that sales revenue was 8.9 billion yuan, a year-on-year increase of 20.2%, approaching Li Ning. In terms of operating profit, Anta achieved 2.011 billion yuan, far more than Li Ning, and various operating indicators can still be maintained at the average level of the industry. In terms of profitability, Li Ning appears to be facing a more serious setback, from 2009 to 2010. In the year, Li Ning realized operating profits of 1.342 billion yuan and 1.547 billion yuan respectively, and in 2011 it dropped to 631 million yuan, far lower than the 960 million yuan in 2008.
In addition to the chase of domestic sports brands, on the other hand, the ambitions of international brands in the Chinese market are clear. Adidas, once surpassed by Li Ning, surged 28% last year in sales in China, ranking first in the world. Its market share has surpassed that of Li Ning and it has taken second place. Nike has already explored the tentacles in China's fourth- to sixth-tier markets. Obviously, Li Ning has been caught between "tigers." The relevant person in charge of the Li-Ning Group stated that Li Ning's overall sales of the Chinese sportswear industry maintained a low-digit growth in 2011, retail terminals still faced inventory pressure, and industry competition was even more fierce. "The next two to three years will be the transition period of the industry."
The company has not yet eased its misery from the miserable data of a sharp drop in net profit by nearly 60%. Li Ning Company also encountered a "supply chain pollution incident." Not long ago, five environmental protection organizations such as the Public Environmental Research Center released pollution survey reports in the textile industry in China. Li Ning, Adidas, Nike and many other well-known companies have different levels of pollution control violations in their supply chains, and many companies have large amounts of pollutants. Problems such as low water use efficiency. In the pollution incident, the "injury" was Li Ning's company. The outside world turned the 2011 annual report recently released by Li Ning Company out of control and pointed to its "rich marketing cannot control pollution".
It is undeniable that in recent years, Li Ning has always been very hard on the road to exploration and transformation. In June 2010, Li Ning launched the largest brand reshaping campaign in the history of the company, and upgraded the brand LOGO that has been used for 20 years to the new brand LOGO of "Li Ning's cross-action", interpreting it as "human". The new sports values; To seize the young consumer groups, boldly played the "Post 90s Li Ning Company" slogan. All these publicity focuses have been placed in first-tier cities, with 70 sixth-generation flagship stores opened in Beijing, Shanghai, Guangzhou, Shenzhen, and other places, and there are positive competitions with international brands such as Adidas and Nike. However, judging from the market reaction, this reckless decision has led to the "two-headed" problem.
Expert opinion: Li Ning's performance decline comes from tactical instability
"It can be said that Li Ning's repeated brand rebranding initiatives failed and the timing was not right." Wang Xianqing, director of the Circulation Economic Research Institute of the Guangdong Business School, believes that Li Ning's rapid rise in the early stage of corporate development has entered a period of maturity Lost in the direction, bewildered, and unclear in strategic thinking, left to the consumer, conveyed to the market is also a poorly positioned bad image.
According to Wang Xianqing's analysis, Li Ning Company has experienced various changes and changes in creativity, positioning, and product design styles in just a few years. It even includes attempts to operate different markets in multi-brand formats, all of which have ended with little success. The decline in Li Ning's performance is due to tactical instability. The well-known "Post-90 Project" hastily launched because it did not really think about how to go deep into the bone marrow to rebrand the brand. The proposed communication ideas and ideas could not be tapped to the spiritual essence of sports, lacking in people's hearts and eventually losing their remodeling. The significance.
Wang Xianqing also pointed out that in fact, the story of Li Ning's growth reflects the plight of the entire Chinese manufacturing industry. After the failure of rebranding, the prominent problems are also the dilemma faced by the entire domestic industry: the core value of the brand itself has not been effectively improved. The lack of irreplaceability. It is undeniable that at present, the sporting goods industry is in the most painful period of the industry. All companies are facing the same transformation pain and the adjustment time will be very long. Li Ning still hopes to take the lead out of the adjustment period and usher in sporting goods. The industry's new round of growth opportunities.

Products name:Cheap and beautiful wholesale Indoor Slipper

Out sole:EVA & TPR.
Size: 29cm as normal,size customized.
Upper materrial: fleece.
Logo:offset printig logo, embroidery, hot-trans-printing.
Use:house.
Packaging & Delivery:
Packaging Detail: 50-200 pairs per carton as request.
Delivery Detail: 30days.
More:
1. New designed promotional gift slipper
2. Customized color and size
3. High quality, fair price
4. OEM/ODM
Indoor Slipper
Indoor Slippers,Indoor Slipper Boots,Washable Indoor Slipper,Indoor Slipper For Winter
Yangzhou Lansun Slipper Co.,Ltd , http://www.lansunslipper.com