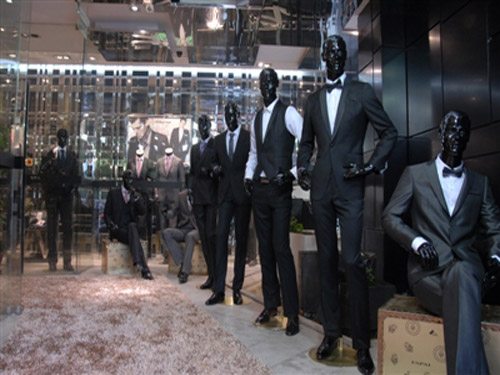 Along with the outdoor temperatures, there is the consumption of summer consumer goods and the customization of the top of the tower. The growth of new customers, the expansion of consumption, and the ageing of consumer groups are all good indications of this industry.
This is a fast and simple era, but some people are willing to wait five or six weeks for a piece of clothing and spend at least 20% more than buying clothing. What are they thinking? Recently, Fapa Apparel launched the "Appreciation of Suit Culture", providing on-site tailor-made services for customers, and demonstrating the concept of advanced custom fashion in all directions.
Local brands have set foot in Wenzhou, and the advanced customized consumer groups are gradually expanding. "People in Wenzhou Times Square stated that, as early as a few years ago, consumer premium customization was mainly for guests with special stature or for special occasions, such as attending concerts, attending weddings, hosting meetings, etc. With the increase in income and changes in consumer awareness over the past few years, even today, even on weekdays or on holiday, some people are willing to customize a set of desirable clothes at a high price, so that they can customize the clothes for "only one, only one customer". Pay the bill.
According to Hu Chao, senior vice president of School of Law, the high-end customization of local suits first appeared in 2004. Since 2007, the public has paid more and more attention to advanced customization, extending from the original special customers to fashion-conscious consumers. Start striding into high-end consumer groups. At present, local brands such as School of Law, Annunciation, Xia Meng Yi Jie, Qiao Dun, and Zhuang Ji have a "special favor" for advanced customization business, and the age groups of major brands for consumer customization are declining year by year. In the past, the average age of customers requiring advanced customization was 40-55 years old, and now it is 30-55 years old.
In recent years, the Wenzhou suit brand has made more and more detailed services for high-end customization. All customer data that has been consumed in high-end custom-brand stores is entered into the VIP system. On the official website of each brand, value-added services such as lifetime free maintenance and terminal free modification are also posted. Hu Chao said that in terms of standardized services, brand flagship stores require a lot more than ordinary stores, and each of the attendant's professional knowledge, service language, and bodybuilder's actions are standardized. It is this personal and personalized service that makes high-end customization more and more popular. Taking the French School as an example, the price of their advanced customization is between 5,000 and 50,000 yuan. The amount of customized products completed last year was around 8,000 units, and the current annual increment amounted to 30%.
The highlights are of great benefit. At the Cultural Appreciation Service of the French School Suit, "advanced customization" has become a highlight. As a representative of high-end quality men's wear, School of Law began to introduce advanced customization business in the country in 2008. Its tailor-made method is different from the traditional "measurement, drawing, cuts, sample, and fitting" process. It is to allow customers to try on samples that fit their body shape, then mark the details to be modified, and then select the styles that the customer likes; then the bodybuilder will collect data patiently and meticulously.
According to Li Guangwei, chief craftsman of the French school, compared with other brands, the French men's clothing is more focused on fashion design, such as the main push of this season's double buttoned body suit model, narrow shoulders, oblique bags, lining process, No pleated trousers and other features are very prominent. In the course of the development of the French brand, the best expression of the wisdom and inspiration of the French school is the introduction of the concept of self-cultivation. The craftsmen use the concept of advanced private custom garments. They generally adopt 3D cutting technology and integrate into the principle of spatial level, emphasizing three-dimensionality and linearity, making the wearing of slim suits more natural visual aesthetic. This time, the franchise's exclusive patented product, "New Spring-Summer Suit", was launched in due course and won the praise of the market.
The Saint Angelo Group started to launch the advanced custom brand "CARL BONO" in 2007, and a set of custom suits price from 6800 yuan to more than 10 million yuan. "After Beijing's first customer came to the shop to customize their clothes in 2008, not only did they personally accumulatively spent more than RMB 1 million, but they also brought in many friends to customize." According to reports, in 2008, CARL BONO opened its first place in Beijing Shangri-La in 2008. Since home tailor-made stores, business has grown by more than 30% every year, and more than 200 customers have been accumulated in Beijing, and several customers have accumulated more than RMB 1 million in consumption.
The prospects of high-level customization are optimistic. In recent years, the rising costs of raw materials, labor, and marketing have been an important factor restricting the development of apparel companies. "Apparel is mainly made of synthetic fabrics, while polyester fabrics and other synthetic fabrics are made from petrochemicals and other raw materials. Therefore, rising oil prices are not just an increase in logistics costs, but will have a significant impact on the apparel industry." The rise in production costs is miserable.
Clothing is one of the pillar industries in Wenzhou. There are 2777 various production and distribution companies, of which nearly 80% are SMEs. Zheng Chenai, chairman of the Municipal Garment Merchants Association, said that the future of clothing industry in Wenzhou should follow the road of customization, and it cannot be developed in the same way as running. He believes that the homogenization of domestic clothing brands is now a serious phenomenon, the fundamental reason is not to order consumption, but garment production, clothing consumption. Garment advocates moderate, obliterating personality. Customization can fully reflect individuality, service, and added value, and can prevent the backlog in the market after the running amount of clothing.
Zheng Chenai told reporters that the gap between Wenzhou and domestic apparel companies and foreign brands is: We are still unilaterally pursuing a bigger one. Knowing that bigger companies do not necessarily make them stronger. Nowadays, the function of clothing has risen to cultural consumption; clothing should be value-added; clothing should be small and refined, and positioning should be meticulous and detailed. Ouyang Changliang, executive president of Zhejiang Aobenni Group, said that the so-called core competitiveness of the apparel industry refers to superior research and development capabilities and marketing capabilities. An enterprise must have such two capabilities at the same time, otherwise it will be difficult to establish a foothold in this industry. Advanced customization requires both of these capabilities, and they will also introduce advanced custom branding businesses in the near future to meet market demand.
Real Fur Cushion,Real Fur,Real Sheep Skin,Real Fur Round Cushion,Home Decor Real Fur Cushion
NINGXIA CHENGFENG AGRICULTURAL SCIENCE AND TECHNOLOGY DEVELOPMENT CO., LTD. , http://www.nxcffur.com