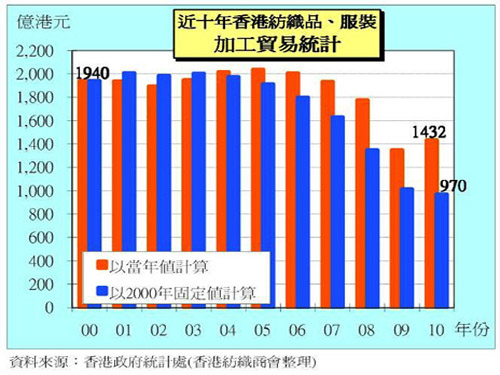 According to the statistics of the Hong Kong Census and Statistics Department, the value of all outwardly processed goods in Hong Kong in 2010 was HK$1,281.6 billion, an increase of 22.2% over 2009, but slightly lower than the increase in total import and export trade (23.9%), accounting for both Hong Kong and the Mainland. The proportion of local trade was reduced from 41.7% in 2009 to 41%.
The processing trade of textiles and clothing (hereinafter referred to as spinning clothes) experienced a continuous decline for four consecutive years since 2006 and also saw a slight recovery last year. The value of goods was HK$114.2 billion, which was 6.3% higher than that of 2009. The increase (8.8%) was small. The share of the textile trade between the two places continued to fall from 62.3% in 2009 to 60.9%.
Excluding price factors, such as taking into account price factors, taking 2000 as a fixed value, last year's textile processing trade was HK$97.0 billion, a decrease of 4.2% from 2009, and HK$194 billion in 2000. In comparison, it has been reduced by half (see the attached photo for details).
Hong Kong's outward textile processing trade in the Mainland has been halved for a decade, with a rapid drop and a large margin. In addition to the declining competitiveness of low-processing production in the Mainland, some overseas orders have shifted to emerging regions, due to:
1 Hong Kong enterprises engaged in processing trade are mainly concentrated in the Pearl River Delta. With the tightening of processing trade policies, Guangdong Province has promoted the "cage-for-cage change", and many processing enterprises lacking the transformation and upgrading power have stopped production; some of them are in the central and western regions. Enterprises that have relocated to factories are unable to expand or maintain their production scale due to problems such as the incompatibility of local industrial chains, insufficient power and energy resources, and imperfect transportation.
2 Since 2009, Europe and the United States have no longer imposed restrictions on textile clothing in the Mainland. With the export of Hong Kong certificate of origin, avoiding this limited part of the processing trade, there is no advantage or necessity, and the relevant business will be declining.
3 The Hong Kong Special Administrative Region Government is engaged in the processing of imported materials in the Mainland
Item detail descriptions:
Material: genuine Rabbit Fur in high quality
Color: any color according to Pantone card
Size: 131*151cm
MOQ: 10pcs per color
Usage: used to be made into garments, collars ornaments and more
OEM: we accept the OEM, that is, customize the fur products in any appearance, color, size as the customer wants
Sample: we can deliver the sample piece to let the customer check the appearance and quality efficiently via DHL, UPS, TNT international mail or any other express.
This blanket, made with rabbit furs from Spain, offer a silkiness and softness touch. This pillow comes in its natural colors and is double-upholstered.
Fur decors provide a unique natural warm and cozy feeling, that only mother nature can provide.
Material:Real Rabbit Fur
pillow cover is the ultimate in comfort, attractive contemporary style, luxurious feel & look
Fits most standard size square pillows and cushions, perfect for couch pillows, throw pillows, bedding accent pillows, decorative pillows and more
Makes a lovely home design & bedroom gift for housewarming parties, bridal registry, new couples, and other occasions. Or treat yourself to the ultimate in comfort and luxury, the gorgeous feel and soft texture that only 100% Real Rabbit Fur can deliver! NOTE: This item is only a pillow cover, it does not include a pillow or filler.
Rabbit Fur Blanket,Rabbit Fur Throw,Rabbit Fur Throw Bed Blanket,Rabbit Fur Throw Blanket
QINGTONGXIA XIANGYUN FUR AND LETHER CO. LTD. , http://www.xiangyunhome.com